Building Component Fabrication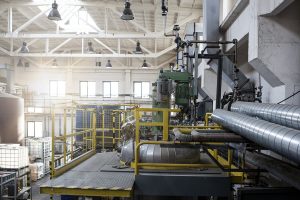 At Stinson's Industrial, we specialize in commercial building component fabrication. Our expertise involves the use of modern equipment and licensed professionals with vast experience under our belt.
We offer competitive prices, and advanced production lines, as leaders in structure design, detailing, and fabrication in the Memphis area.
Our professionals are experienced in the manufacture of a variety of components, from high-profile buildings to window frames. We cut, form, and fabricate each of our products to our client's specifications.
How Fabrication is Positioned in the Construction Industry
Structural metal, steel, or aluminum are not only used in the construction of industrial properties. These robust materials are also useful in constructing quality commercial buildings. The toughness of the components is the reason these are preferred metals for construction purposes, for example.
Our commercial building component fabrication service includes the process of bending, cutting, and forming structures to create columns and beams. Our designs are cost-effective, stable, and durable for construction.
By working closely with architects, designers, project managers, detailers, shop workers, and engineers, we are able to create structures for building long-lasting components. Our expertise includes stairways, ladders, access ports, structures for equipment protection, personal safety, and more.
We use modern equipment and advanced fabrication tools to design structures that comply with our client's needs and requirements.
How We Can Serve Your Industry
The reason our structural designs are preferred in the construction industry is that we strive to provide excellent, quality products that improve personal safety standards.
Our fabricators have had comprehensive experience specializing in commercial building components for over two decades.
We fabricate a broad range of products for the construction industry, including energy infrastructure, shipbuilding, oil or gas infrastructure, power plants, manufacturing, and retail.
OSHA requires all companies working with structural steel and machinery to maintain a healthy and safe working environment. No matter what sector your business falls into, failure to meet the strict OSHA requirements can have significant repercussions for the success of your venture.
By using our designs, you will be able to provide a secure and protected working environment for all your employees.
Some of our most common structures include:
Equipment protection
Ladders
Access Ports
Dollies and Carts
Machine Guards
Guards and Guarding
Hoods
Chutes
Stinson's Industrial's commercial building component fabrication services are helpful at all stages of the development process. We provide you with:
Design: Do you have an idea, sketch, or drawing? We can design your component or product before the building process starts.
Fabrication: The creation of the metal, steel, or aluminum product.
Finishing: The improvement of the quality of the component through post-fabrication practice.
Contact Us Today
Our team of qualified experts is ready to help with any project you have in mind, simple or more complex.
If you are looking for commercial building component fabrication services in Memphis, get in touch with our professionals. Projects of any complexity or size are well within our expert capabilities. You can expect comprehensive industry familiarity from us, with high standards across the fabrication of commercial building components.
We will happily discuss different ideas and options with you and provide the best solution for your business.