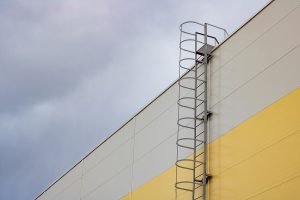 Many commercial and industrial spaces use ladder cages. It allows people to move between platforms, catwalks, or mezzanines in facilities where custom staircases can't be installed. Ladder cages are versatile, durable, and an excellent option to ensure safety and maximum functionality.
All our ladders are created to be a safe means of accessing unsafe areas and can be built with a custom cage (if the ladder is more than five meters above the ground).
We specialize in ladder cage fabrication and provide you with quality ladders for any project or use. We design these products so that both the ladder and cage provide your employees with an efficient and comfortable solution to access to rooftops or high ceilings as needed.
Custom-made safety cage ladders
Many industries require custom-made ladders for ensuring safety and protection for their workers. If you are part of an industry that requires these kinds of protection measures, we are more than happy to help.
Our cage ladders will keep your personnel safe and your facility in line with the latest OSHA protection regulations.
Following OSHA regulations is part of our process, so Stinson's Industrial fabricates cage ladders with three key requirements in mind.
Load: All our ladders are designed to support reasonable loads. We design quality ladders with cages that will support 200 pounds (or more) of a concentrated load.
Rungs: All cages fabricated by Stinson's Industrial have properly installed rungs to minimize slipping.
Extensions: Our team inspects and determines the extensions for your ladder. Some standards may change, depending on the type of ladder you require (standard fixed ladder, offset stair ladder, ladder with manhole cage, or dock ladders, for example).
Types of cage ladders we offer
In our catalog, you can find different types of cage ladders for any industry or application.
Stinson's Industrial specializes in ladder cage fabrication, offering you:
Standard fixed ladder: The standard ladder is used to access safety systems in commercial or industrial buildings. For example, access to roofs or emergency exits.
Offset stair ladder: The ladder has steps instead of rungs.
Ladder with manhole cage: Custom-made manhole cages are an excellent safety feature for high ladders.
Safety rolling ladders: These ladders are wide with steps ranging from two to twenty (or more). Rolling ladders have any number of uses in storerooms, stock floors, warehouses, and showrooms.
Dock ladders: Durable, sturdy, and corrosion-resistant, dock ladders have many applications in almost all industries.
Our ladders are typically designed for use as walk-through ladders, wall mount ladders, side mount cage, or floor mount ladders.
Ladder cage fabrication Memphis
At Stinson's Industrial, we design, plan, fabricate, and install your ladder cage safely and on schedule. If you need our services, please don't hesitate to call us.
Our team of expert fabricators can answer all your queries regarding our professional services and customize a solution that suits your preferences. Take advantage of our ladder cage fabrication services today, and get your custom-made safety ladder on record.
Contact Stinson's Industrial today.