Stinson's Industrial has a reputation for premium quality products and impeccable workmanship. For more than 20 years, Stinson's Industrial has catered to client's needs, providing a high level of expertise in all areas of service.
One area of service that our company excels at is Memphis hand sanitizer stands. Our hand sanitizer stands are a perfect solution for companies and industrial properties looking to maintain a healthy environment. Our purpose is to set higher standards in leading the fight against germs, bacteria, and the spread of infections or viruses to make hygiene matter in the workplace.
Custom Hand Sanitizer Stands

Custom-made hand sanitizers are more than a marketing sign – they show your employees, clients, and customers that you take their well-being seriously. Your company logo, your colors, and your choice – Stinson's Industrial can build you a personalized hand sanitizer stand that is one of a kind. Whether you want to keep it inside or place it anywhere outside your facility, our custom hand sanitizer stands are perfect for offices, schools, hospitals, stores, and special events. With competitive prices in bulk stock, our custom-made sanitation solutions make the ideal addition to your business facility.
Check our vast palette of custom hand sanitizer stands. Each component comes in different colors to fit your corporate image. When paired with your company logo, there is no doubt that your unique sanitizer solution will make an impression on employees and associates visiting your property. Our hand sanitizer stands aren't only stylish, but high-quality as well. We can assure you that each hand sanitizer stand made by Stinson's Industrial is cost-effective and designed to last a lifetime.
Following are the perks of using hand sanitizer stands:
Wide range of styles
Hand sanitizer stands are available in different sizes and styles so you can make an honest choice to use for your company promotion. You can select hand sanitizer color and size and customize them to fit your corporate image.
Label space
By using personalized hand sanitizer stands, you can get additional space to add your brand logo. Whether you choose a large or small stand, you will get enough space to display your company efficiently.
Portable
Keep hands clean 24/7 with lightweight and easy-to-transport custom-made sanitizer stations from Stinson's Industrial. Our portable hand sanitizer stands are perfect for cleaning hands in supermarkets, warehouses, fitness centers, restaurants, business offices, and more. Thanks to our portable sanitation stations, you'll be able to prevent the spread of germs and bacteria when water is not available for handwashing.
Maximum brand recognition
Our Memphis hand sanitizer stands will provide maximum brand recognition to your company as employees, clients, or customers will use them daily, and they will frequently look at your brand name and logo.
Keep harmful bacteria away
The hand sanitizers are highly efficient hand-cleaning solutions. Use them to spread awareness among people for cleanliness and hygiene. You can participate in awareness activities, and social events where you can use sanitizer stands to distribute among people.
Industrial Hand Sanitizer Stands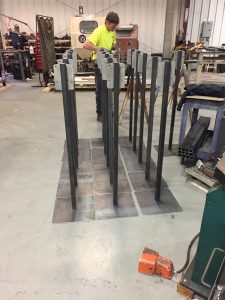 Did you know that more than 70% of employees still go to work when they aren't feeling well? That is a lot of germs and harmful bacteria going through the office. Those germs may infect more employees or customers, multiplying until they are adequately regulated. Stop viruses in their tracks with the use of industrial hand sanitizer stands.
Stinson's Industrial encourages the use of hand sanitizer and invests in high-quality, practical solutions to help businesses deal with the seasonal flu, coronavirus, and so on. Our Memphis hand sanitizer stands are a convenient way to clean hands when at work. An industrial hand sanitizer may be positioned in cafeterias, conference rooms, near the elevators, and other prominent places.
Our sanitizer solutions aren't for the workplace only. They are ideal for use in libraries, doctor offices, schools, and medical facilities. The units automatically dispense the right amount of sanitizer.
Convenient, safe, and effective, our hand sanitizer stands are the perfect way to keep yourself and people around you from unnecessarily and unknowingly spreading harmful germs. Go through our catalog of industrial hand sanitizer products and select the solution that best suits your business. Our competitive prices, coupled with our vast inventory of hand sanitizer dispensers, allow for a pleasant shopping experience. The excellent customer service and attention to detail will make you a loyal Stinson's Industrial customer.
Effective Hand Sanitizer Stand Placement In The Office
Business companies that encourage regular use of hand sanitizer have cleaner and healthier employees. The best tactic to remind workers to use hand sanitizer is by making it accessible. It is essential to place the hand sanitizer stand near communal areas and high-touch surfaces.
Entrances and exits – To disinfect light switches, doorknobs, and other surfaces in your office, make sure to provide a hand sanitizer stand nearby entrances and exits.
Food courts and break rooms – One of the germiest spots in a workplace is the kitchen and breakroom. A hand sanitizer stand can help eliminate harmful bacteria and germs.
Employee desks – Phones, desks, computer keyboards are key bacteria transfer points as people touch them often. Because employees spend the day at their desks, the area becomes a minefield of germs. Placing our hand sanitizers near the desks increases hygiene. 
Meeting rooms – Meeting rooms are filled with clients, employees, and prospects who exchange handshakes, thereby swapping bacteria. Providing employees and clients with an accessible hand sanitizing station allows them to protect their hands against germs before and after the meeting. 
High-traffic areas: Our Memphis hand sanitizer stands are meant for high-traffic areas, including mall hallways, airport terminals, and so on, to ensure visitors stay as healthy and germ-free as possible. Not only do our sanitizer solutions keep high-traffic areas clean, but they also help improve the image of the company and brand. 
Stinson's Industrial allows you to create a custom hand hygiene product for your business facility. With the option to position a hand sanitizer stand where you need it most, you can protect both your employees and clients.
Contact us today to discuss how your facility can benefit from our Memphis hand sanitizer stands and hygienic solutions.