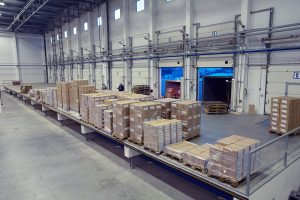 Stinson's Industrial provides custom platform fabrication, project installation, and maintenance and repair throughout the Memphis area. We have been the number one solution provider for platform fabrication Memphis for over two decades.
At Stinson's Industrial, we evaluate our valued customers' needs, designing, and planning your project for success. We also implement the solution and deliver on your expectations safely and on schedule.
Platforms are an important element in industrial and commercial spaces alike. Whether it is part of a staircase, mezzanine, catwalk, or passage, the platform is a functional option that will last for years.
We are recognized for our qualities and strengths in structural fabrication, and platform fabrication is one of the many services we offer.
The Uses of Platforms Today
No matter the sector or industry, commercial or industrial, using space efficiently will be the main concern from the beginning of the project.  A metal, steel, or aluminum platform might be the best solution to your space problem.
Platforms today are used for all kinds of purposes, including space expansion, safety measures, and more. A platform can be used in an industrial space to provide extra room for an office space or in a commercial building as a balcony. It ensures that no space is lost and, depending on your available area, the platform may be free-standing, accessed via a staircase, or integrated into other elements of the building.
Our platforms usually include walking surfaces unsuitable for storage but quickly accessible. The structures are available mainly in manufacturing, retail, oil rigs, warehouses, factories, and construction sites.
A platform designed and fabricated by Stinson's Industrial is also more eco-friendly. It will last longer and have a better aesthetic appeal than any other platform out there.
If you are considering a platform for your commercial or industrial building and would like to hear a professional opinion, our team of expert fabricators is waiting for your call. We have the knowledge and experience to answer your questions and find the best solution for your needs.
Our Platform Fabrication Services Memphis
We are fully engaged in offering platform fabrication Memphis trusts, to fulfill the diversified needs and requirements of our clients. Our professional service includes design, planning, fabrication, and implementation of all kinds of platforms (small, long, heavy, or lightweight).
Our intention is to maintain higher market standards, so our experienced team uses quality materials and approved tools to follow the established guidelines of the industry at every phase of the process.
Thanks to our expertise in platform fabrication, we are engaged in delivering precision and custom designs to satisfy your needs.
We make use of quality mechanical sheers, stainless steel, carbon steel, and aluminum for the fabrication process. Our team uses the latest machinery and tools to perform fabrication and provide for the requirements of our clients.
We encourage you to explore our website and learn more about platform fabrication Memphis and the services we offer. Our team of professionals is looking forward to providing solutions for your next platform fabrication project. Stinson's Industrial is ready to handle your next project. Reach out to us today.
Stinson's Industrial Design and Fabrication
From the design planning phase to prefabrication and final implementation, Stinson's Industrial is the best in the industry for catwalk design and fabrication Memphis.
We provide excellent work and professional services for our local clients.
Contact us today for a quote on your next catwalk project.