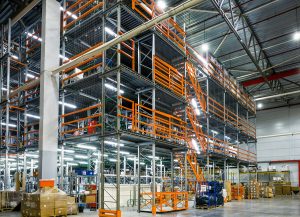 Whether it is a standing mezzanine or rack-supported walkways, Stinson's Industrial is committed to delivering cost-effective fabrication solutions.
Each property is unique due to its size and use. Our team uses various components to meet your specific ideas and requirements.
Mezzanines provide an excellent opportunity to increase your available space. Dead space can always be used more effectively, and homeowners or businesses can create access to these areas for various purposes. 
Are you interested in mezzanines fabrication Memphis? Are you looking for the right services?
Stinson's Industrial is the premium choice.
Our Memphis Mezzanine Fabrication Services 
Mezzanines are used in various industries, usually installed in high-ceiling spaces in factories and warehouses, for example. The structures can be free-standing, which also means it is easily relocated.
Our mezzanine structures can be supported by racks or shelves, structural elements, and columns. Different materials are used for the fabrication process (depending on the span). We use metal, stainless steel, carbon steel, aluminum fabrication, or a combination of all these quality materials for the best results.
Our Mezzanine Fabrication Memphis Service includes an on-site survey or personal visit to establish the available options. Our professional recommendations are based on your specific requirements, available space, and the suitability of the area.
A custom design, fabrication, and installation service are included.
Why consider mezzanine structures
Mezzanine structures are more popular than ever. Here is where mezzanines are most useful:
Automation of materials
Every company knows that it's important to make the most of the space available. One adaptable area is above our heads.
The implementation of multi-layered mezzanine construction can accommodate all kinds of systems, which can be used to store and dispatch products. Access catwalks, support platforms, and other requirements can also be incorporated into our mezzanine designs.
The handrails can be aligned to match your corporate color schemes, too.
Warehousing or distribution
A well-designed warehouse that uses the space to store items properly can solve the problem of poor organization. It will make way for a more efficient and simplified operation, where employees know where to find the items and deliveries can be quickly arranged.
By using our mezzanines fabrication services, you'll be able to take advantage of your space potential and expand the capacity of your warehouse successfully.
Retail
Mezzanines are widely used in the retail industry. Our designs can be adapted to the needs of the client and are a fantastic solution for the extra space you need. We can easily transform your store or building with multiple levels of high-quality, stable, and robust mezzanine fabrication structures.
Production & Manufacturing
Our service includes superior mezzanine fabrication Memphis can trust. It is popular in the production and manufacturing industries, for example.
If you are trying to accommodate your production, weight might be a problem. It is one of the reasons why it is important to choose mezzanine constructions made of robust steel that will stand the test of time.
Stinson's Industrial Design and Fabrication
Let our team take care of your mezzanine needs and provide you with the best ideas and designs. We are equipped to handle all your mezzanine fabrication Memphis needs.
Contact Stinson's Industrial today.