Over two decades of experience put Stinson's Industrial as a reliable source for handrail fabrication Memphis. We work with different materials while maintaining clients' needs, offering an unparalleled set of capabilities and solutions in a competitive industry.
Our unique handrail design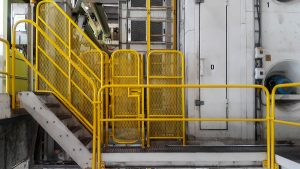 Handrails ensure the area is protected and increases the safety of individuals that come and go in your business premises. It is recommended anywhere there is an unprotected platform, catwalk, or staircase. It is also required on raised areas from which you can easily fall.
Stinson's Industrial has produced a range of industrial handrails for various uses and applications over the years. We provide steel handrails that complement your platform or staircase, for example.
When it comes to design, Stinson's Industrial is proud to offer a unique design that complies with all the standards and market regulations. The handrails we produce for Memphis follow the exposed edge of constructed or lifted staircases and platform areas precisely.
Our handrails are solid constructions used in every industry, from retail to manufacturing. The components are available in various options, from basic to double line handrail, and can be easily customized to suit your needs.
Before we start the project, part of our service is to provide drawings and ideas. We discuss various options that can be implemented at your facility, ensuring you have a wide range of options to explore. We also use the time to understand what your preferences are and offer you the best solution.
The Useful Applications of Handrail Fabrication Systems
Our designs are available for both commercial and industrial applications, backed by a professional support service.
Here are some of the applications for our quality handrail systems: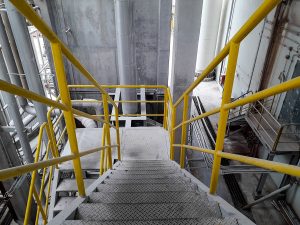 Commercial places
A handrail (or any similar barrier) can be implemented along the side of a balcony, stairway, mezzanine, platform, floor, or access bridge. Our handrail systems are fabricated using quality steel that complies with U.S. standards.
Industrial applications
Falls and injuries at the workplace are a priority safety issue for businesses. There are many aspects when it comes to workplace injuries, but most are due to falls or slips on an unprotected surface. Installing handrails is the best way to prevent these types of situations, and our systems provide safety for people across mezzanines, service platforms, or any elevated surfaces.
Stairways
Ensuring the safety of employees is paramount to a thriving business. A company should implement a handrail system as part of the stairways as a minimum safety precaution. We offer quality handrails and additional accessories to ensure your working environment is entirely secure.
Our team is also fully experienced in how to make your facility compliant with U.S. standards.
Commitment to Quality
At Stinson's Industrial, we consider any project of any size, applying the same principles of design, safety, quality, and performance to your handrail fabrication.
We are considered the top handrail fabricators in the industry by many happy customers. We are the logical choice for a plethora of projects, including both commercial and industrial projects in Memphis.
Our professional team supports the exclusive services for handrail fabrication Memphis values, and we work closely with our clients. Our services are admired for low costs, systematic processes, and timely execution.