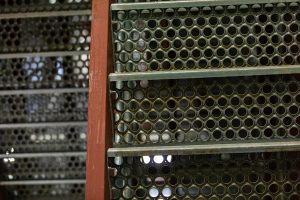 As a leader in catwalk design and fabrication Memphis, our team is ready to serve your needs and exceed your expectations.
Our designs meet all specifications and market standards, and we make construction and installation an easy process. Our team provides you with simple integration of various add-ons, including platforms, stairs, ladders, railings, gates, and landings.
Catwalks are platforms (or a type of flooring) that provide quick and safe access between two areas that otherwise couldn't be linked.
Our catwalk designs are used in various industries, including manufacturing, shipping and distribution, warehousing, and industrial processing. It is popular because these catwalks are strong, lightweight, reliable, versatile, and affordable.
All our catwalk designs can be manufactured from mechanical sheers, steel, and aluminum.
Catwalk Installation
Stinson's Industrial has over two decades of experience in the installation of catwalk systems. Our professional team has installed catwalks of all sizes, and no project is too complex for our team to handle.
Regardless of where you are located in Memphis (or within a one-hour radius of Memphis), we can provide a trained team to install your catwalk system.
We have the knowledge and expertise to get the job done on time and with precision.
Catwalk Fabrication
Our specialized services cover catwalk fabrication Memphis, simplifying the installation process for flawless implementation.
Fittings, cutting channels to a precise size, or building extra components can all be accomplished in-house. Welded from hard steel and coated in our facility, the custom walkway will be installed personally by our crew.
The catwalk designs show up ready and labeled for quick and easy installation, and the crew only needs a minimal learning curve for customized projects.
Our ability to improve your throughput and increase your efficiency is unparalleled. We provide the best catwalk fabrication services to fit your schedule and budget.
The Benefits of Catwalk Design and Fabrication
There are many excellent reasons why we clinch the number one spot for catwalk fabrication service providers in the Memphis area.
Here are some of the advantages you'll enjoy at Stinson's Industrial:
Prefabrication services
The nature of our components and materials allow our designs to be prefabricated in our facility. It saves time and simplifies the installation process significantly.
Prefabrication allows us to construct the walkway components properly and reduces the work needed on a project. From our point of view, it reduces the risks associated with catwalk fabrication and working overhead.
Walkways designed according to the highest standards
When it comes to catwalk design and fabrication Memphis, all our systems are designed with the latest guidelines and safety standards in mind. We base our business on two key values—quality and trust. Quality designs are something you can always expect when working with Stinson's Industrial.
Lightweight catwalk designs
We use strong but lightweight materials to design walkway systems for all purposes across all industries.
Stinson's Industrial Design and Fabrication
From the design planning phase to prefabrication and final implementation, Stinson's Industrial is the best in the industry for catwalk design and fabrication Memphis.
We provide excellent work and professional services for our local clients.
Contact us today for a quote on your next catwalk project.